Real Raw Milk Utah
We keep it raw.
Redmond Heritage Farms' milk is simple – we leave it the way nature makes it. This real milk contains the complete natural balance of protein, carbohydrates, fats and enzymes that support healthy life – milk doesn't get any better than this. We take nothing away from this perfect food. If it's skim milk you are looking for, you'll find it just below our milk's cream line.
We keep it real.
Our milk comes from healthy pastured cows who eat real food. Our cows have constant access to pasture and enjoy fresh green-grass and sprouted barley, dry hay, Redmond Real Salt and Redmond Clay.
Our Raw Milk is not pasteurized and or homogenized. It is a full-fat product that contains no additives. Our milk is fresh from the farm and unadulterated.
We keep it clean.
We are among the only (if not the only) dairy that tests our milks nutrition quarterly and make decisions on feeds based on the finding of our tests. Learn more about our milk testing here.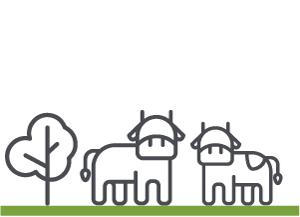 Our Farm
Where the journey begins. Feed, clean, milk, test, bottle, clean, and repeat.
Our Store
From happy cows to cooler shelves, we keep it cold, fresh and clean.
Your Home
Fresh milk, unmatched
nutrition, and amazing flavor.
NOT ALL MILK IS CREATED EQUAL
Why Raw Milk?
While pasteurized milk is a very important part of a healthy diet our raw milk has 3 main advantages:
Unpasteurized

 – During the pasteurization process important key enzymes are killed that support a healthy gut and immune system.

Unhomogenized

– For some reason our society have decided that cream should not separate in our milk jug. We have accomplished this through the homogenization process which forces milk through a small filter breaking down the large fat molecules attaching them to the small proteins. The downside to this process is that our bodies have a harder time knowing what to do with small fat molecules attached to proteins since this is not natural. Because of this our bodies tend to store it instead of burn it. This is in part the reason for the misunderstanding that milk causes you to gain weight.

Grass based

 – Because our animals diets are mostly forage based, our milk is naturally higher in CLA's and Omega 3's. We are among the only if not the only dairy that tests our milks nutrition quarterly and make decisions on feeds based on the finding of our tests. In our testing the CLA's and Omega 3's are as typically 2x-3x higher than that of commercial milk. Our Omega 3:6 ratio is typically between 1-2.